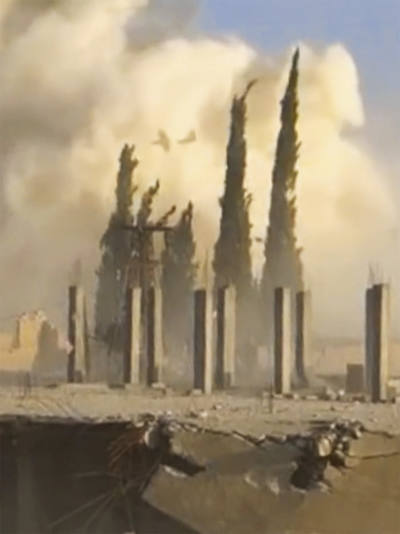 Still
Vertical HD video,
4:54, color
2016
Informations
Still comes from a video found on Youtube. It was cropped then strongly slowed down. We see a group of Cypress in the center of the image that is slowly covered by a cloud of dust.
The cloud in the video Still comes from Syria, a war zone where Western technologies reign supreme. The digital «cloud» is the new order. This video, through its romantic aesthetic inspiration, resonates as a warning of future concerns about control technologies.
___
Still is part of the installation Collateral Visions which explores human singularity inside algorithmic and computer visions.
Exhibitions

2018

Foam Talent 2017,

Frankfurter Kunstverein, Frankfurt, DE,

24/05 – 26/08

Foam Talent 2017,

Red Hook Labs, New-York City, USA,

22/03 – 08/04

2017

Foam Talent 2017,

Les Atelier Néerlandais, Paris, FR,

09/11 – 12/11

Foam Talent 2017,

Foam Museum, Amsterdam, NL,

01/09 – 12/11

Swiss Design Awards 2017,

Halle 3, Basel, CH,

13/06 – 18/06

Ciels, Villa Dutoit,

Geneva, CH,

05/05 – 21/05

Watched! Surveillance, Art & Photography,

C/O Berlin, DE,

18/02 – 23/04

2016

Diplomas Exhibition 2016,

ECAL, Renens, CH,

30/09 – 14/10
© Clément Lambelet / ECAL