Happiness is the only true emotion
2016 – 2019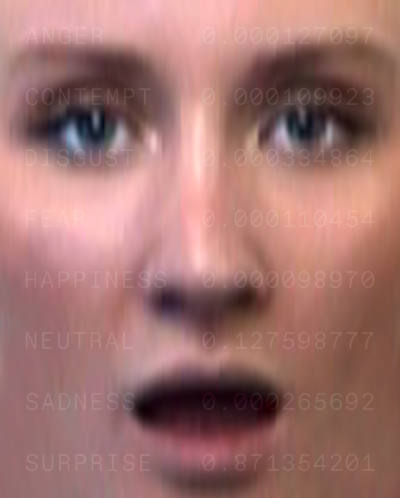 Informations
Every photo you post on Facebook or Instagram is checked by an algorithm recognising your emotions. How would you react if you knew that this process was flawed?
With the rapid development of artificial intelligence, systems capable of recognising and interpreting human emotions are spreading throughout society. Happiness is the only true emotion deconstructs this new technological tool of population control. It is a critique of the generalisation of obscure algorithms present on social networks, in shopping centres, streets or airports.
The body of this work is the diversion of a series of portraits established by the University of Stirling in Scotland. Each of the actors in this visual database plays the six "universal human emotions". I selected one expression per subject and cropped the photographs to keep only the face, modifying the portraits to make them even more expressive so that they become emotional vectors.
Each image was then submitted to Microsoft's Face API, the leading algorithm in the field, to test its accuracy. The system only recognised happiness with certainty.
___
Happiness is the only true emotion was published by RVB Books in September 2019.
___
Happiness is the only true emotion is part of the installation Collateral Visions which explores human singularity inside algorithmic and computer visions.
Exhibitions

2022

Intelligence Artificielle – Nos reflets dans la machine,

Musée de la Main, Lausanne, CH

2021

Swiss Design Awards 2021,

Messe 3, Basel, CH

Real Feeling,

MU Hybrid Art House, Eindhoven, NL

2020

Real Feeling,

Haus der elektronischen Künste, Basel, CH

(Right In) The Feels,

ERG, Bruxelles, BE

Swiss Design Awards 2020,

online

2019

Gibellina Photoroad,

Gibellina, IT,

26/07

When the Air Becomes Electric,

Centre de la photographie, Geneva, CH,

01/05 – 02/06

2018

Presence Festival,

FotoDepartament, Saint Petersburg, RU,

03/10 – 12/10

Krakow Photomonth,

ZPAF Gallery, Krakow, PL,

25/05 – 24/06

Foam Talent 2017,

Frankfurter Kunstverein, Frankfurt, DE,

24/05 – 26/08

Foam Talent 2017,

Red Hook Labs, New-York City, USA,

22/03 – 08/04

2017

Foam Talent 2017,

Les Atelier Néerlandais, Paris, FR,

09/11 – 12/11

Foam Talent 2017,

Foam Museum, Amsterdam, NL,

01/09 – 12/11

Swiss Design Awards 2017,

Halle 3, Basel, CH,

13/06 – 18/06

Watched! Surveillance, Art & Photography,

C/O Berlin, DE,

18/02 – 23/04

Plat(t)form 2017,

Fotomuseum Winterthur, CH,

27/01 – 29/01

2016

Diplomas Exhibition 2016,

ECAL, Renens, CH,

30/09 – 14/10
© Clément Lambelet / ECAL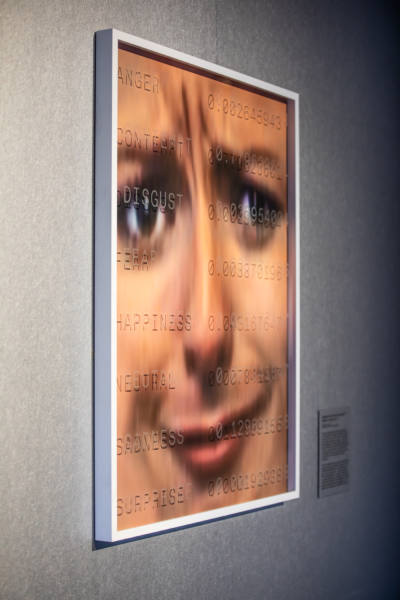 Inkjet print and typography on glass, 80x100cm, in Real Feeling, MU Hybrid Art House, Eindhoven, NL, 2021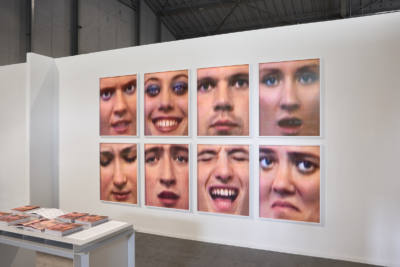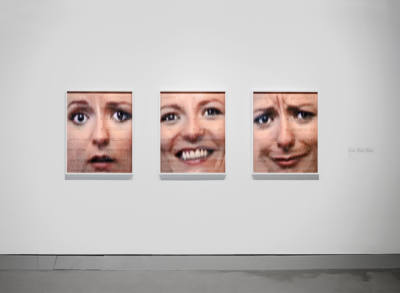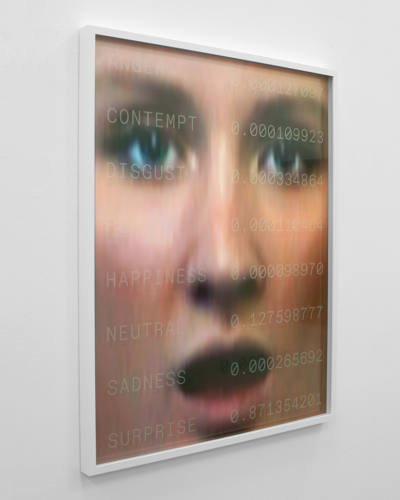 Edition
Happiness is the only true emotion
15.2 x 19 cm
Soft cover
Otabind
544 pages
263 colour photographs
ISBN: 979-10-90306-89-9
Price : 38 €
Buy the book
© Clément Lambelet / RVB BOOKS